Supporting the SRC
The Senior Resource Center (SRC) is a 501(c)3 non-profit agency committed to providing information, advocacy, referral services, support and activities to seniors and their caregivers.
We receive NO government funding – federal, state, county or municipal.
We are supported by grant awards, individual donations and our 2 annual major fundraisers:
SRC Festival of Trees and the Wine & Dine for the SRC
*****
Festival of Trees
A community wide celebration featuring decorated holiday trees in a rustic winter wonderland setting held annually at the Barn at Highlands Ridge Park in Chester.
The trees are individually decorated by families, businesses and civic organizations and are enjoyed by hundreds of people every year.
Information on this year's event: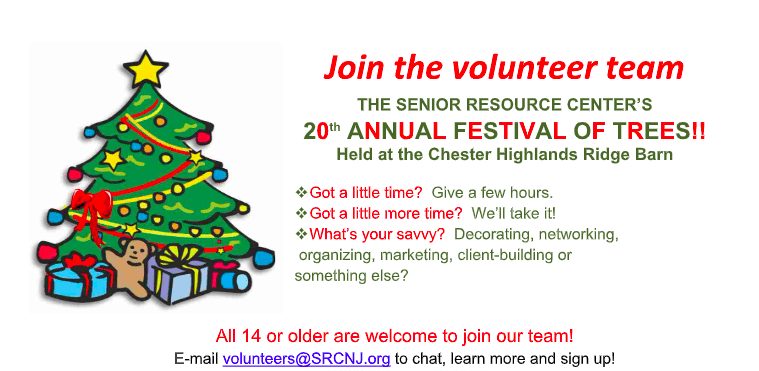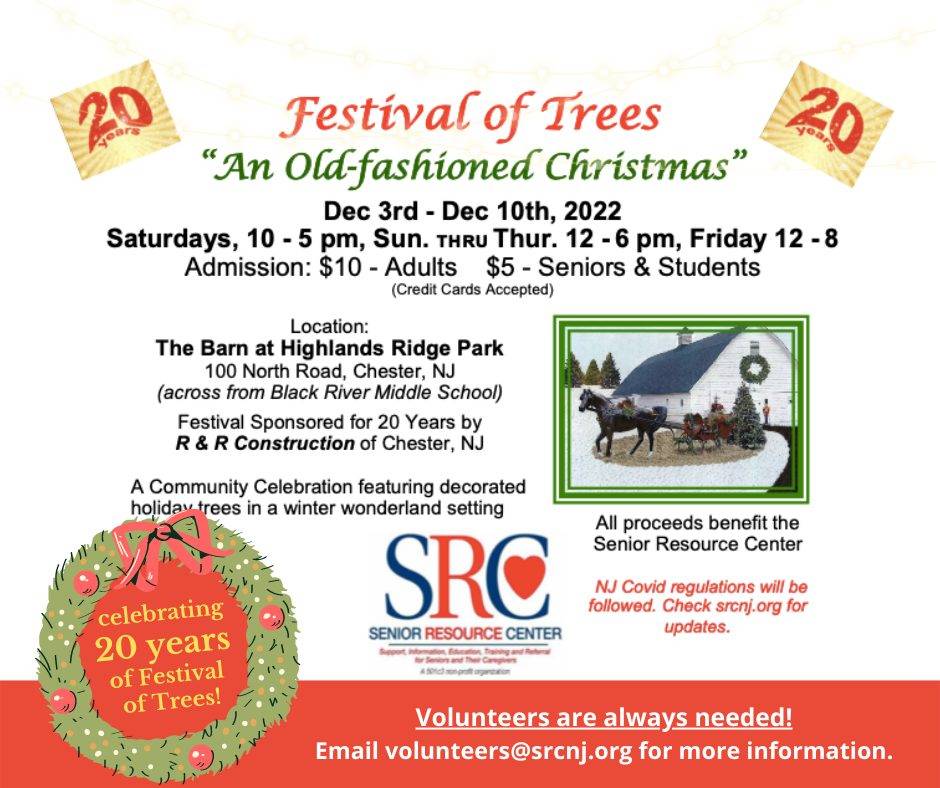 Click here for Sponsor and Decorator Information
Santa will be here!
Sat. December 3rd, 12 – 3 pm
Sun. December 4th, 1. -4 pm
Tues. December 6th & Thur. December 8th, 3 – 6 pm
Fri. December 9th, 4 – 7 pm
Sat. December 10th, 12 – 3 pm
All trees are for sale. Consider purchasing a tree or donating toward the purchase of a tree to be donated to brighten the Christmas of a local family.
There will be items in the Gift Shop and "Cash & Carry" trees available for immediate purchase. 
Come and help us decorate small trees for Cash & Carry sale!
Tree-Decorating Workshops:
October 12, 19, 26, and November 2 @ 10 am
*****
Wine & Dine for the SRC has been postponed.
We hope to have this event in 2023.
Attendees at this event are able to sample a wide array of menu offerings from many area restaurants along with tastings of wines from around the world.
All proceeds from the evening, including a percentage of all wine sales, go to support the ongoing mission of the Senior Resource Center.
Your Heart Loves Acupuncture Presented by Deborah Torrence Mon. Feb 6th @ 12 pm Chester Public Library Tues. Feb 28th @ 11:45 am Mountain Top Church (new location!) The heart is connected to every organ in the body and affects one's health, emotions, and...
Quick & Easy way to donate online to the SRC
Call or email us about our program offerings!
SAVE THE DATE: Festival of Trees – "An Old Fashioned Christmas" – December 2022
The Senior Resource Center (SRC) is always searching for community members interested in assisting with the daily operations of our great program.  
Contact us here.
Please sign-up to receive our Monthly Newsletter